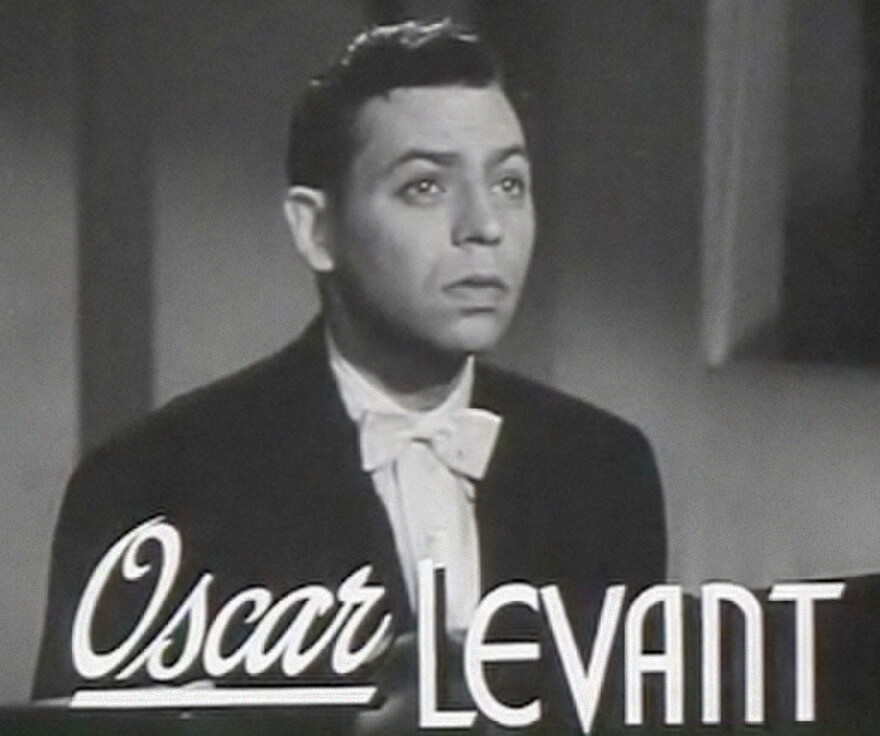 Last week, I experienced Sean Hayes channeling Oscar Levant in the staggering Broadway production Good Night Oscar. The play is a tour-de-force which demonstrates the shocking way in which people once often did everything in their power to disavow, ignore, and hide mental illness. Together, we journeyed back in time to 1958, the dawn of modern television when three networks were the only game in town (I know, it's impossible to imagine!). In fact, when there was no scheduled programming, the networks ran test patterns that looked and sounded like you were trapped inside a blizzard. Jack Parr was the debonair host of The Tonight Show, the precursor for late-night television decades before audiences were inundated and accosted with shock-antics of confessional, no-holds-barred television. In this puritanical bygone era, Americans were glued to their screens precisely because they wanted to see what Oscar would blurt out that was not allowed to be said on television. Oscar Levant was Jack Parr's favorite guest and frequent sidekick because of his thrill factor. He shot off-coarse and caustic one-liners with the precision, speed, and unpredictability of the most daunting roller-coaster ride in town. In this puritanical bygone era, Americans were glued to their screens precisely because they wanted to see what Oscar would blurt out that was not allowed to be said on television. People never knew what was coming around the next turn, but audiences always wanted to go back for more thrills. His lacerating quips and self-deprecatory jokes hit a fever pitch as fast as you could shout, "Network censors!" 
At the conclusion of each titillating repartee, Jack invited Oscar to make his way over to the Steinway baby grand piano to play. Like many geniuses, Oscar had more than one talent: He was a comedian and a gifted, classically trained pianist. If you want to experience what Positive Psychologist Mihhaily Csikszentmihayli calls a Flow State, then watch this jaw-dropping performance of Oscar playing Gershwin's Concerto in F. This is a master class in flow as we witness a human being becoming one with a piano: WATCH THE VIDEO HERE. 
So far so good. Who wouldn't love to turn on their favorite late-night TV show to spend some time with a curmudgeonly guest who's pee-your-pants, irreverent humor was so much better than your Uncle Fred who always drank too much at Thanksgiving dinner.
The shadow side of this story is that Oscar Levant suffered from addiction and mental illness and spent large amounts of time in psychiatric facilities where his treatment consisted of loading him up with prescription drugs and a regime of electroshock therapy. 
Oscar Levant famously quipped, "There's a thin line between genius and insanity. I have erased that line." At the time. people spoke about his antics by often writing him off as quirky, crazy, or just performing a schtick. Then things went off the rails when the Tonight Show aired live from Los Angeles and Oscar failed to appear at the studio, less than ninety minutes before the show was slated to go on air. Oscar's wife burst into Jack's office to confess that she wrangled a four-hour furlough pass from the psychiatric hospital by lying to the doctors that it was their daughter's graduation so that Oscar could appear on the show. 
I'm not going to say more about the show, but if you want to see 1,016 theatergoers jump to their feet with a rousing standing ovation after Sean Hayes performs Gershwin's Rhapsody in Blue, then you will understand the allure and awe of live theater. 
The staggering thing about the play is that, 65 years ago before celebrities such as Olympic champion Simone Biles or the fictional character Ted Lasso brought this discussion into the public arena, there was no language for mental illness, clinical depression, or addiction., "Nice" and "genteel" people did not talk about these things, choosing to pretend they did not exist. People said someone was "crazy," a "basket case" or  a "nut-job."
Oscar Levant said, "I say it about myself before they can. I make them laugh, but I have the last laugh." Even though we have evolved with a public discourse around mental illness, all too often there's an insatiable appetite to exploit celebrities' vulnerabilities for public consumption. There's something healing about exposing our shared pain in order to help those who are suffering in silence or shame." 
One of the most inspiring stories about the creation of Good Night Oscar happened long before the performance hit the stage of the Belasco theater. I was deeply touched to learn that Sean Hayes championed this project for more than 23 years, long before he went "big time" as the star of the hit series "Will and Grace." The actor says playing Oscar is his most challenging and meaningful role. Many people will have heightened empathy and identification with this universal story. Walking out of the theater, I felt immensely grateful to live in a time when we can talk about mental illness in more compassionate and responsible ways.
I'm sending you strength and love. 
Soaringwords is the power to heal.
Lisa
(Credit for the main photo: Wikimedia Commons/Public Domain)