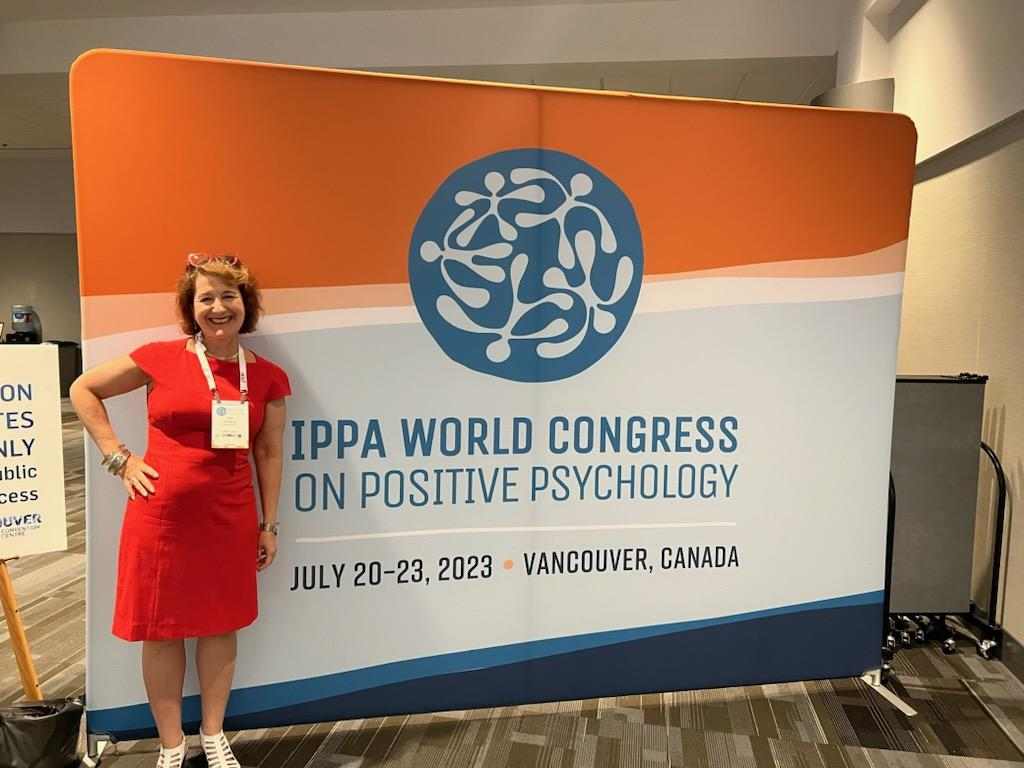 I just returned from the International Positive Psychology Association's (IPPA) World Congress in Vancouver where I began my term as president of the Positive Health and Wellbeing Division.  Imagine the energy and excitement as 1,000 of the most effervescent, inquisitive, and caring people from 53 of countries gathered to share the latest innovations in the field of Positive Psychology. This year's apt theme of connection became a self-fulfilling accomplishment as Positive Psychology practitioners from health care, education, business, and coaching were overjoyed to be together in real life, instead of gathering virtually in Zoom land. In the early months of the pandemic, the 2021 bi-annual IPPA convention was scrapped due to travel bans and the unlikelihood that people would traverse great distances to convene. That's why this year's Congress felt even more connected and energized. More than 90 hours of innovative presentations with 590 speakers activated lively, spontaneous, and purposeful conversations throughout the 133,000 square feet of the convention center.
All conference participants indulged in our signature strength of "love of learning," one of the 24 character strength classifications from the Via Character Strengths assessment. Click here to take a free 15-minute assessment to discover your top strengths and you'll receive a confidential print out of your character strengths.  
You don't have to travel to another city or country to experience the apparent and plentiful benefits of connecting with others in simple and authentic ways. According to my Positive Psychology friend and mentor Dr. Jane Dutton and her colleagues, Dr. John Paul Stephens and Dr. Emily Heaphy, High Quality Connections (HQCs) are short-term interactions that create a positive, beneficial impact on both parties. Especially these days when the U.S. Surgeon General Vivek Murthy identifies loneliness as a global epidemic, emphasizing the power of connection is more necessary than ever before. Simply put, when someone sees you, respectfully listens to you, and shares their authentic thoughts and ideas, it makes you feel more enlivened, respected, and connected. These connections are bi-directional, which means they work to strengthen our connection to ourselves as well as to create a connection with another person. And both of these benefits are significant to bolster our health. Research shows that high quality connections improve cognitive processing speed, memory, and even our immune systems. HQCs can help people adapt in challenging situations, promote psychological safety and trust, and bolster trustworthiness and cooperation.
In 2019, I attended the Cause Marketing Summit where I struck up a conversation with Stacey Flanagan, Director of the Jersey City Department of Health & Human Services. By the end of the day, she had hired me to lead Soaringwords' SOARING Into Positive Wellbeing workshops for the Health & Human Services employee team that supports 292,449 residents. We've been partnering on initiatives and programs together ever since. On July 21 at the IPPA World Congress, Stacey and I led a one-hour symposium presentation together with Dr. Richard Tedeschi, the pioneering scientist who coined the term post-traumatic growth. You never know how a conversation can lead to a powerful connection or collaboration.
I returned to New York City grateful and excited to have made dozens of connections with new colleagues. It was also the beginning of creating brand new strategic alliances and initiatives with leading Positive Psychology practitioners around the world. When we connect with one another, we can inspire thousands of people to take active roles in their self-healing to experience greater physical, emotional, and mental wellbeing. And when you connect with a loved one, a friend, or a random stranger in the grocery store for even a small moment of high quality connection, it can make a meaningful, positive impact that boosts wellbeing for you both. 
I'm sending you strength and love. 
Soaringwords is the power to heal. 
Lisa