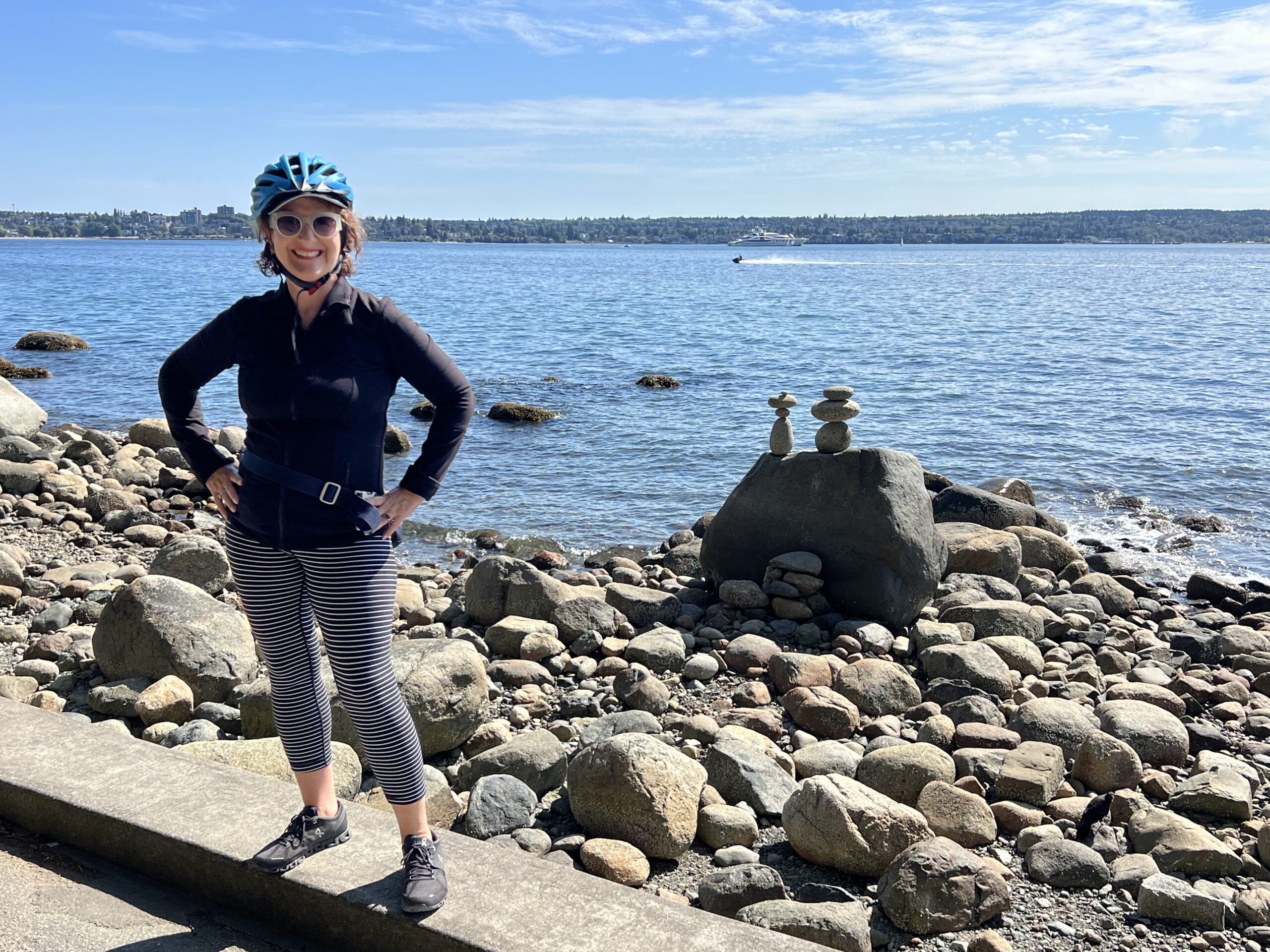 Rounding each bend on the bicycle path that hugs Vancouver's 20-mile sea wall, I suddenly noted an invigorating shift in my body. Although I had just spent 10 hours in transit from New York City to Vancouver the wind which caressed my face and the cool sea breeze elevated my spirit and blew the jet lag fatigue away. 
Travel is simultaneously exhilarating and tiring. This summer, millions of people experienced the more stressful and frustrating side of travel as flights were delayed, canceled, or re-routed. The day before my departure to Vancouver, the New York Times ran a full page article about the horrors of lost luggage, so my husband and I were a little worried about how our suitcases would fare. After dropping off our luggage at the hotel, my husband suggested we de-stress from the flight by enjoying a bike ride through Stanley Park, a 1,000 acre sanctuary nestled in the harbor. Although my bicycle had spent the past 15 years stashed in the basement storage room of my New York City apartment building, I recalled the classic adage usually invoked to encourage someone as they embark on a new task or daunting project: "Hey, it's just like riding a bicycle!" The implication being: "You'll get the hang of it."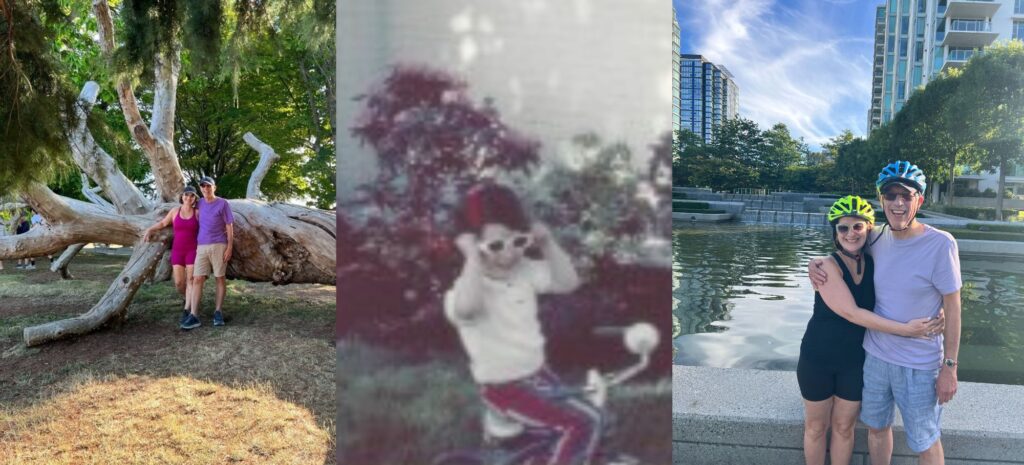 Mihaly Csikszentmihalyi defines Flow as a state in which people are so involved in an activity that nothing else seems to matter. The experience is so enjoyable that people will continue for the sheer sake of doing it—even at great cost. The repetition of pedaling through this lush and fascinating topography uplifted my mind and heart into Flow State. In less than five minutes, I had become one with the bike. As I pedaled along my journey, I rode into the consciousness of Shoshin, a Japanese word that means "beginner's mind." When we have an attitude of openness, expansiveness, and  eagerness to experience things with a beginner's mind, we are able to more fully engage with the present moment.
Seated on my perch, I discovered new vistas while simultaneously observing people from all walks of life strolling, picnicking, and biking along the sea wall path. The confluence of engaging in a new activity while appreciating magnificent nature activated something that Positive Psychologist Barbara Fredrickson calls the Broaden and Build theory of Positive Emotions where positive emotions broaden an individual's thought-action repertoire, which in turn builds their personal resources over time. This bike ride was so invigorating that it became a near-daily ritual for my husband and I throughout the duration of our time in Vancouver.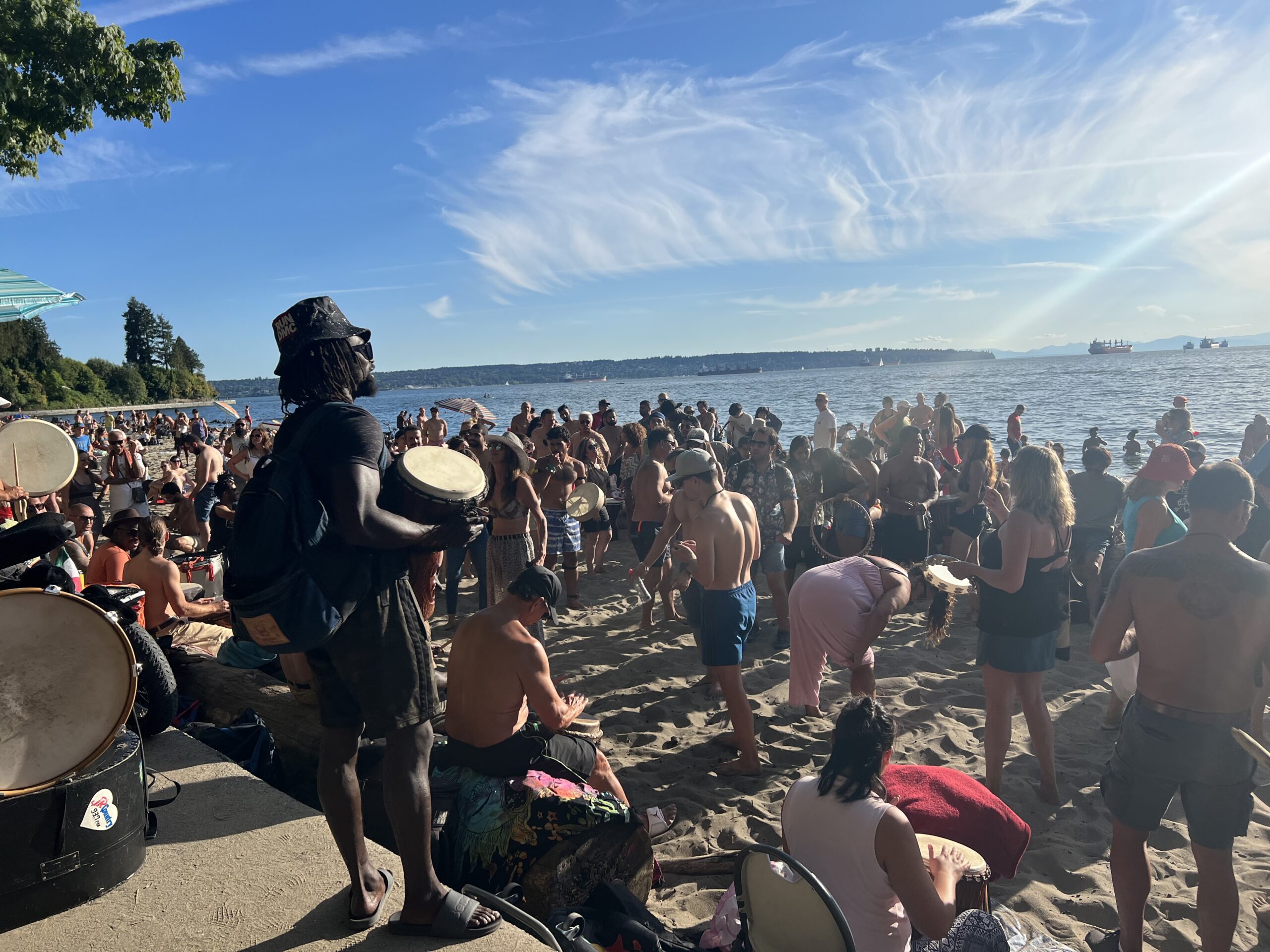 On one evening ride, Third Beach was overflowing with hundreds of people who were drumming, dancing, laughing, and moving in synchrony. I asked someone if there was a special occasion for the communal celebration. He replied that there was no specific reason and that it was just a regular occurrence for the sake of gathering that occurred every Tuesday night from 6 to 10 p.m.
The next morning, we enjoyed a brisk ferry ride to Granville Market. It was incredible to be on the "high seas" making our way to a new neighborhood. When we visited one of the dozens of  bakeries, I was so inspired by the thrill of falling back in love with biking that I decided to continue my adventure by expanding my culinary horizons. I decided to order something I'd never tried before. So instead of getting a cranberry and chocolate scone (which I knew would be mouth-watering), I selected a more unique peach-rosemary pastry. When I bit into the confection, my tastebuds were delirious as the blending of sweet peach and savory  rosemary swirled in my mouth. Although it was a rather small action, I was also proud that I did something different. 
Inspired by the delicious outcome of my daring scone decision, I decided to continue the theme of trying new things throughout the trip. One of my guilty pleasures is gelato, so I was eager to experience the alluring world of Vancouver's gelato scene by trying new flavors. And that's when it happened: I discovered amarena cherry gelato. I had never heard of this flavor and although cherries are a delightful fruit, they probably would not make their way to my top five fruit favs. Yet, when I bit into that tart and sweet confection, I knew that I had won the gelato lottery.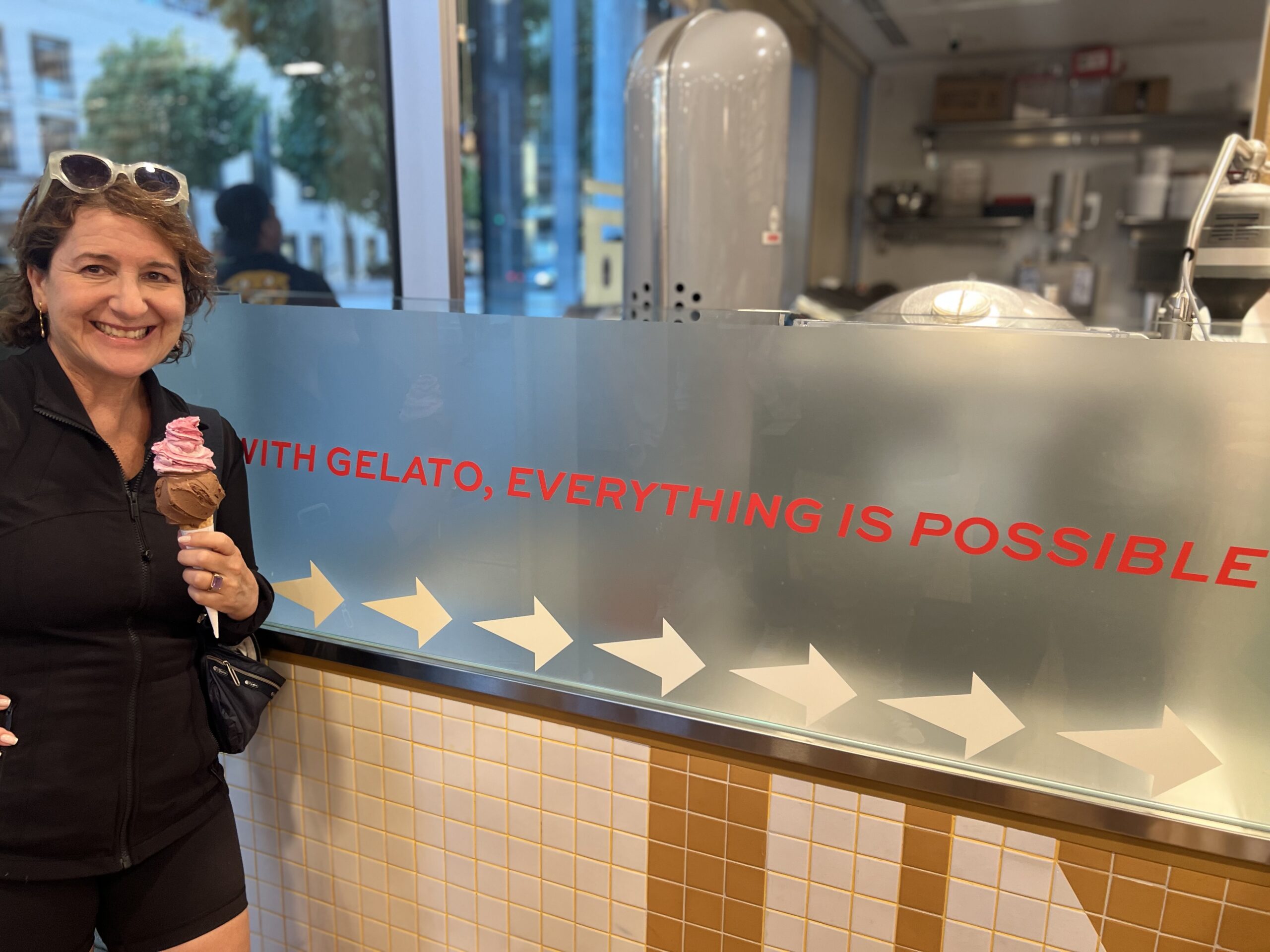 You might be surprised because of the biking and scones stories, but I actually consider myself to be a fairly adventurous person in several domains. I love to meet new people and giving a talk or going to a conference with 1,000 attendees is my idea of a great time. There's just so much possibility. Experiencing micro-moments of joy in small pleasures can have a positive cascading impact on significant aspects of our lives as well. 
Every summer since 2012, I've built my vacation around speaking at the International Positive Psychology Association's bi-annual World Congress or the European Conference on Positive Psychology. In this way, I've met new colleagues and friends while having the benefit of exploring new cultures in Amsterdam, Australia, Budapest, France, and Canada. As the vacation segment of this year's adventure was coming to a close, I entered the IPPA World Congress feeling energized by these smaller micro-moments of joy that were elevated by Shoshin. As a result, the conference was life-changing beyond my imagination in many ways. 
Life is like riding a bicycle: In order to keep your balance, you must keep moving. And micro-moments of joy can serve to propel you far. So in the words of the beloved author Dr. Seuss, "If you never did you should. These things are fun and fun is good." 
P.S. When we got back from Vancouver, my husband got my bike out of storage, took it to the shop, and got it in tip-top shape so we could continue our re-found hobby together. He left it in the hallway to surprise me—complete with sparkly handlebar tassels.