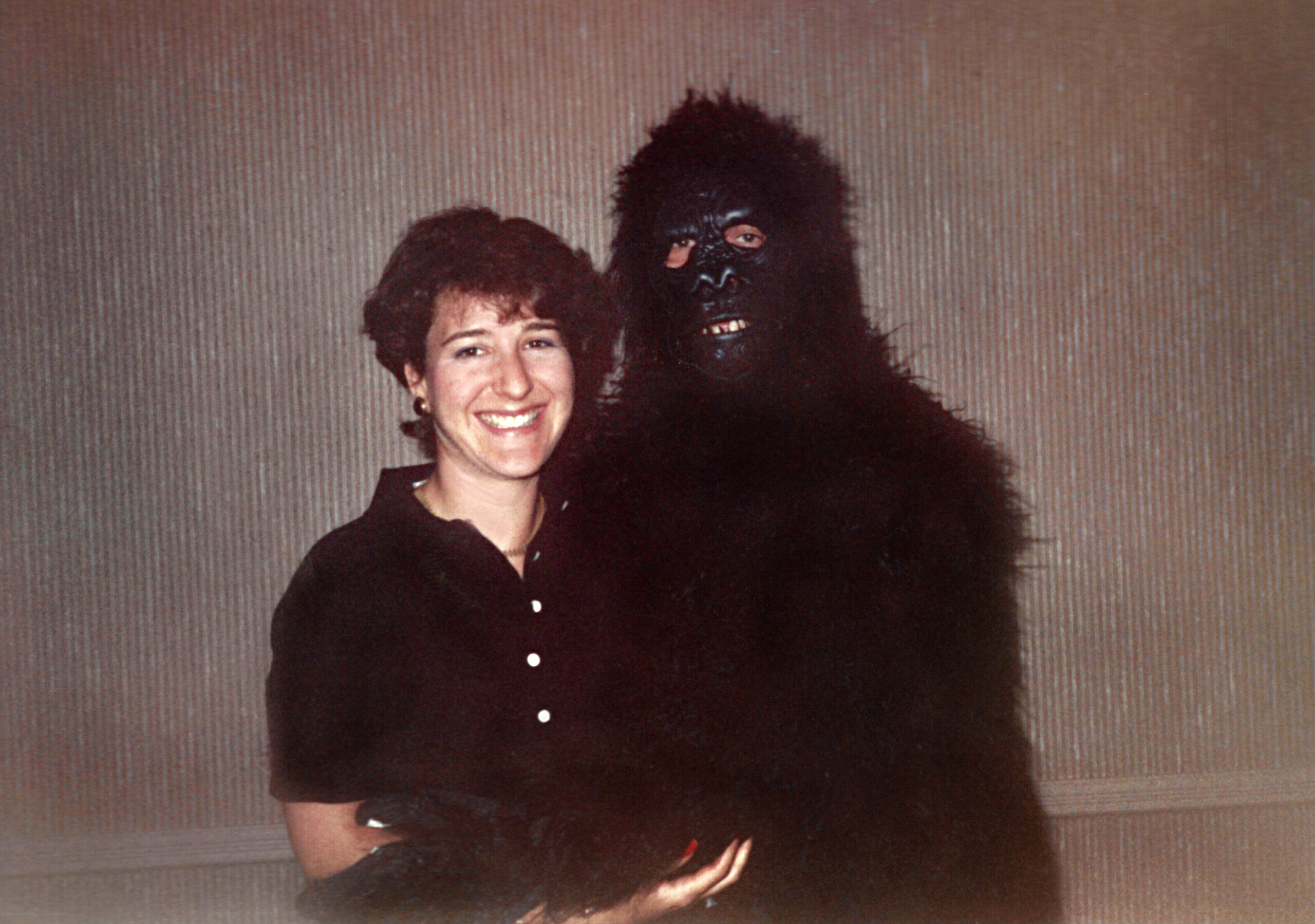 This is one of my favorite stories about my dad's zany antics that I share in my debut memoir SOARING into Strength: Love Transcends Pain.
Throughout the summer, when my father was hospitalized with non-Hodgkin's lymphoma, Mom and I did our best to decorate the windows of Dad's hospital room that overlooked the stem cell transplant unit's hallway. We were like high-school cheerleaders decorating the school corridor during pep week, determined to share goodwill with everyone who needed cheer. We were really invested in our positivity campaign. One of my favorite signs was a take-off on stock market advice that read, "Buy low, CELL high." Nothing beats a little stem cell humor! 
A few days later, we added another schmaltzy sign that read, "Housewares Department: Stem cell sale on the third floor." We soon learned that, the cornier the sign, the better the reaction, and not just from my father. The other patients in the unit loved them too. 
One afternoon we threw a CELL-a-bration party. C-E-L-L for the stem cell floor, get it? We gave out party hats and cupcakes for everyone. I made riddles and contests. Dad was in isolation, so the entire oncology floor came by his room to check it out: the custodians cleaning the floors, the people delivering the meals, the attendants, patients who would walk, doctors, and nurses. It was our plan to create a lot of love and excitement to surround my dad, and it seemed to be working. We invited everyone staying in the unit to create haikus for their favorite nurse. We even offered a ninety-nine-cent "Haiku Champion of the Week" trophy to the best haiku. 
I hoped our positivity outbursts on the oncology floor might prove contagious among the patients, families, and health care staff. Dad was a master of spreading positive energy. For example, after buying a gorilla costume for a holiday party, he started to wear it on his morning rollerblade expeditions throughout our neighborhood in Fair Lawn, New Jersey. He'd rollerblade to a friend's house and knock on the kitchen window while they were sitting in their bathrobes, reading the paper, and drinking coffee. He'd bang on his chest, and call out, "Me want coffee. Me want coffee." Without missing a beat, the friends would open the back door, set down a coffee mug and say, "Good morning, Charlie." Even though they could not see his face, they knew that no one else would wear a gorilla costume and skate around the neighborhood. 
Back in the hospital, I knew that Dad was feeling stronger because he wanted to don his gorilla suit and run up and down the corridor.
"Brilliant idea, you idiot," Mom wisely said overruling the idea, while clutching her side from laughing so hard. "Charlie, you'll run around in your gorilla costume and make the patients and nurses go into cardiac arrest!" 
By the end of the summer, Dad's blood counts were good and his margins were clean, so the doctors told us that they would release him before Rosh Hashana, the Jewish New Year. 
After leaving the hospital, Dad stayed in contact with some of the other patients with whom he had forged a camaraderie during their hospital stays together. Dad's hospital roommate Mr. Chang invited my parents to attend their family's formal Chinese dinner celebrating Mr. Chang's recovery with sixty of his relatives. Mom and Dad brought home handfuls of small Chinese blessings on parchment paper, tightly wrapped in shiny red paper. Enduring a shared trauma like this often forges strong relationships between patients going through simultaneous medical crises as they are able to provide mutual support for one another. 
One thing's for sure, we'll always remember the kindness of the nurses, doctors, hospital staff, the patients and their families. We're also so glad that they will remember my father's kindness and positive energy—without having any idea that, in his spare time, he loved rollerblading in a gorilla costume! 
I'm sending you strength and love.
Soaringwords is the power to heal.
Lisa