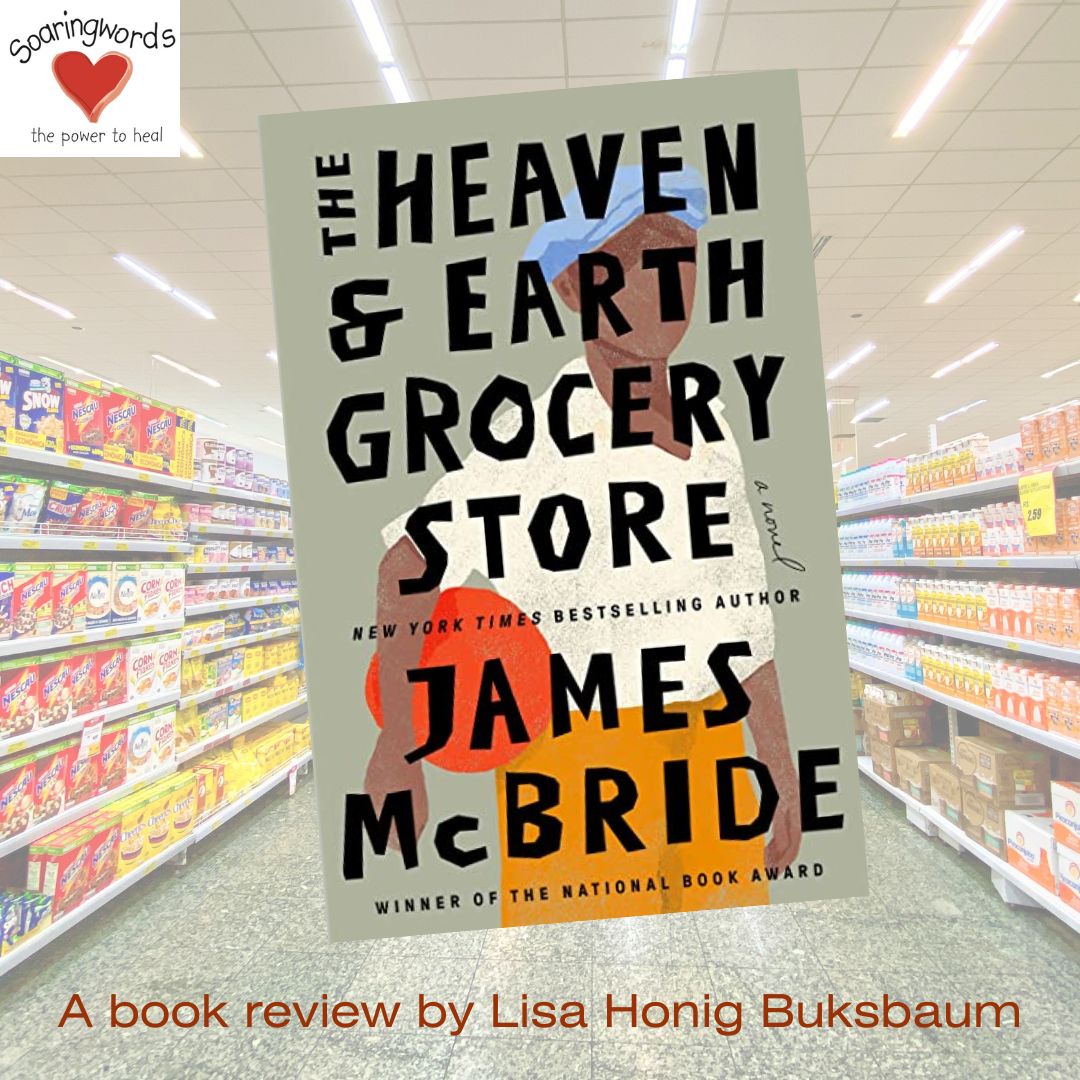 While lounging on my purple couch on day three of my second run-in with COVID, I got an invitation to attend a live Zoom event with National Book Award author, James McBride. 
I first fell in love with McBride's work when I read The Color of Water: A Black Man's Tribute to His White Mother, an American classic which has sold over  2.1 million copies worldwide. His latest book, The Heaven & Earth Grocery Store, had me hooked at the title. Who doesn't love a compelling title? My sweet husband went to the local bookstore and bought me the hardcover. Our apartment has bookshelves in every room and I was excited to escape into a brand new novel. 26 hours later, I had devoured every sentence of this riveting 385-page tale, satisfied to have been privileged to spend time with these memorable characters. 
The Heaven & Earth Grocery Store is set in 1920s and 1930s Chicken Hill, a ramshackle neighborhood in Pottstown, Pennsylvania. Like many iconic works of art, the book's message is prescient for today's contentious times where people cautiously tiptoe around cultural conversations in fear of being "canceled" or attacked by "haters." McBride's melting pot of memorable characters—Jewish, Black, and immigrant arrivals—learn how to live side by side. Their hard-scrabble lives and poverty reflect the immigrant stories of individuals and communities that built the railroads, coal mines, and other American industries. Thrown together in a dilapidated section of town, the characters live amidst their own people, as racial and class divides harbor secrets and distance. At the same time, because the dominant culture doesn't respect the rituals, beliefs, or existence of others, the tension creates a shared sense of respect and cooperation as the characters in the novel push back against antisemitism, racism, and jingoism. McBride expertly shows how the disparate groups of people come together to stand up against the hatred and bigotry. I don't want to give away any specifics since there are many twists and turns and secrets that leap out of each chapter. 
After reading the book, I eagerly awaited the Zoom event to hear James McBride in conversation with cultural journalist Sandee Brawarsky. As an author, I am always fascinated to learn the "stories behind the story." McBride shared two telling facts that changed the trajectory of his life and became the inspiration for the two protagonists. 
The first revelation was that James's Jewish grandmother had polio and lived in a difficult loveless marriage. McBride reimagined his grandmother's life through Chona, the first protagonist who was a  headstrong and generous woman who operates the grocery store. McBride's grandmother also ran a grocery store in a Black neighborhood. All of Chicken Hill's Black and European immigrant residents adore Chona for her tenacity and kindness as she often allows them to take out lines of credit that never come due. Her husband Moshe owns two musical theaters in town and works with people from all cultures. He integrated his theaters decades before the rest of the country, with Black and Latino musicians performing to the delight of sold-out, multi-ethnic audiences. 
The book is dedicated to Sy Friend, the retired director of the Variety Club Camp for Handicapped Children in Worcester, Pennsylvania. McBride worked at this camp for four summers while he was a student at Oberlin College. Moshe, the second protagonist, was inspired by McBride's  magnanimous mentor. In his acknowledgements, McBride writes, "Sy's lessons of inclusivity, love, and acceptance—delivered not with condescending kindness but with deeds that showed the recipients the path to true equality—remained with me for the rest of my life."    
Through this engaging novel, McBride shows us that we are so much more alike than we are different. During the interview when Sandee asked about what he hopes will be the core take-away of the book, McBride said, "Right-thinking people need to show that we know how to live together." He paused and added, "Personally, my goal is to always be the kindest person in the room."
What can you do to reach out across a divide that might feel uncomfortable in order to make an authentic connection to someone different than yourself? Take the chance and see what happens.
I'm sending you strength and love. 
Soaringwords is the power to heal.