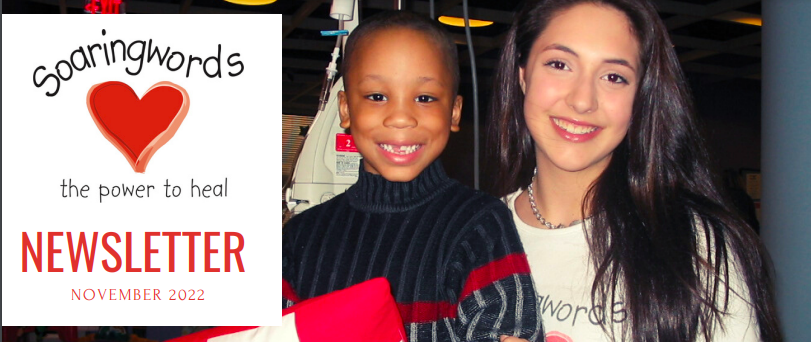 November 2022 Soaringwords Newsletter (7)
As a passionary — a visionary driven by great passion and action—I love to create things that inspire others to experience greater physical, emotional, and mental well-being.
Last week, I celebrated the publishing of my debut memoir SOARING into Strength: Love Transcends Pain at an elegant launch party at Eric Alt Salon in Allendale, New Jersey. As I stood at the podium gazing out at all those who attended—people who I knew and also new faces— it was the culmination of a passion project 10 years in the making. It was a great joy to read several stories, autograph books, and get feedback from people.
I am swimming in gratitude for the generosity of Eric Alt who hosted the soiree and Luis Villabon, the talented actor and my wonderful voice teacher who performed "For Good" as the finale. Event photos are on page 6.
Recently, I also attended the annual Master of Applied Positive Psychology (MAPP) Global Summit in Philadelphia where we celebrated the 80th birthday of Dr. Martin Seligman, founder of the field of Positive Psychology with 275 graduates at the forefront of health care, business, public policy, education, and coaching. Us MAPPsters are dedicated to helping people flourish based on the latest scientific discoveries in Positive Psychology. There was a lot of hugging. Watch Marty's reaction when I shared the impact he had on my life in the story from the chapter in my book, How I Stumbled on Positive Psychology on the Up Escalator, HERE. As we enter the winter holiday season, it's the perfect time to share some gratitude for yourself and those around you. Depression and anxiety are highest this time of year, so try to take some time to enjoy things that give you joy such as walking in nature, reading that book you've wanted to read but never found the time, or doing something kind for someone else. Each month, this newsletter will invite you to join us at upcoming events and bring you up to date on recent press coverage, podcasts, blogs, and photos in case you missed them on our social media.
I'm sending you strength and love.